Complete Planting Service
Our planting services include the following:
Formal landscape planting schemes
Non-formal landscape planting schemes
Tree Planting
Woodland Planting
Screen Planting
Why choose SPA Landscaping for planting?
SPA Landscaping come with a wealth of experience and knowledge in the design and planning stage of planting. We have created eye catching and appealing building frontage by using low maintenance shrubs, trees, plants and ornamental materials. As well as recommending the hardiest plants available for the toughest soil types on harsh and exposed sites.
Request a Quote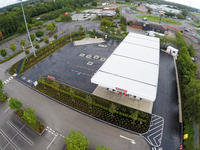 Case Studies
SPA Landscaping Ltd have carried out the landscaping to one of UK's County Courts. Our work included all aspects of landscaping and notably semi mature tree planting. Due to the high profile nature of the site all aspects of the work…

Read More

SPA Landscaping Ltd carried out the site preparation and planting of 12 x woodlands across South Yorkshire. A total of 55,000 trees were planting to create and improve woodlands across the city. Our work has been recognised for quality due…

Read More

SPA Landscaping Ltd carried out the full landscape of Tinsley Park Landfill. Our work included seeding, planting and aftercare to ensure that the capped off landscape provides a biodiverse landscape. A total of 12,600 trees were planted…

Read More
Planting Service
Our planting service is carried out for a variety of clients including
Business Parks, Corporate Offices and Industrial Estates
Local Authorities and Public Sector Sites
Schools, Colleges and Universities
FM Companies and Managing Agents
NHS Hospitals
Facilities Managed Hospitals
Private Estates and Residents' Associations
Retail Establishments and Supermarkets
Public and Private High-Profile Landscapes
Public and Private Sports Facilities
Historical, Heritage and Memorial Sites
Private Property
Request a Quote