Contractor Gritting Services
Our Winter Services include:
24-hour call out, 365 days per year
Manual and Machine Application
Manual and Plough Snow Clearance
GPS on site arrival alert system
Multiple weather forecast monitoring
Post code and grid reference monitors
Salt and grit sales
Supply of grit bins, shovels and spreading equipment
Grit bin refill service
Example Call Out Options
We work with our clients to establish the most suitable solution for them. However, please see below our two most popular options to give you an idea of the work we do.
Customer Trigger
The Client has their own trigger system, on which SPA Landscaping deploy their staff. This could be a simple email instruction due to adverse weather forecast or a client's trigger system that automatically informs SPA Landscaping offices.
Automatic Trigger
SPA Landscaping use a company trigger system. This is linked to multiple weather forecasts, generated specifically for winter conditions. Example triggers for gritting include forecast temperature at 0ºC and 25% chance of snowfall. These triggers are tailored to suit customer and site requirements.
Request a Quote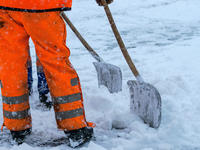 Snow Clearance Services
We currently carry out Gritting and Snow Clearance for sites that include:
NHS Hospitals
Hospitals
Emergency Services
Private Estates
Large/ Small Asset Owners
Commercial Property
Industrial Estates
Retail Parks
Shopping Centres
Car Parks
Request a Quote